Powder coating
Ultimate protection with an environmentally friendly process
With powder coating, we coat your steel with environmentally friendly paint powder. This makes your steel resistant to wear and tear and prevents corrosion and erosion. Our innovative powder coating line is specially designed to conserve large quantities of steel constructions in a short period of time. With a minimum of handling and a maximum of quality.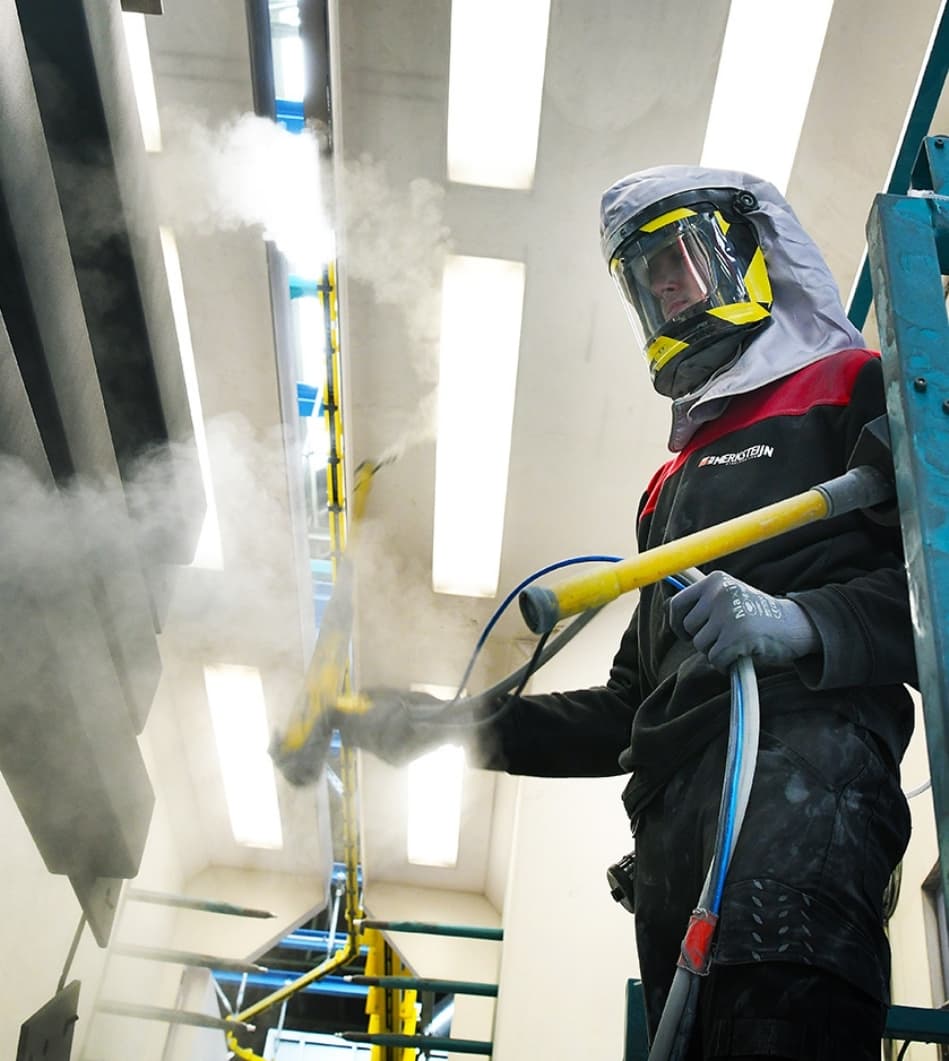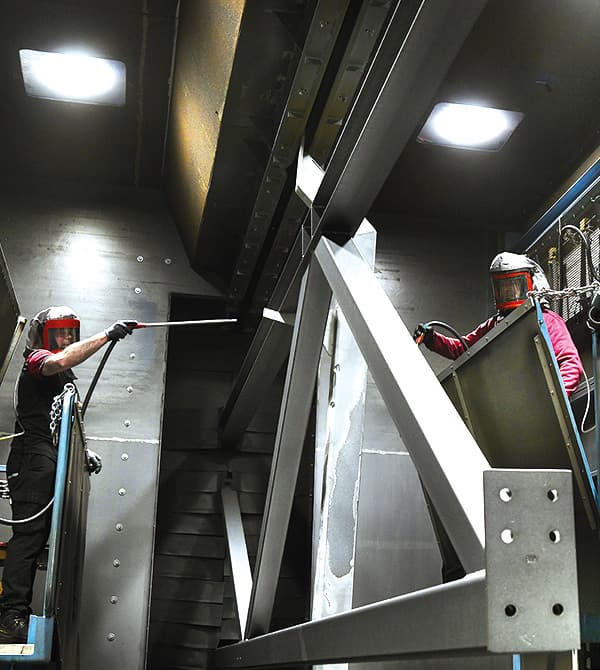 Step 1/5 - How it works
Blasting
The steel constructions are hung on a hanging rail and automatically blasted clean (according to the SA2.5 standard) to remove any rust or other contamination. The remaining steel grit is then removed with compressed air.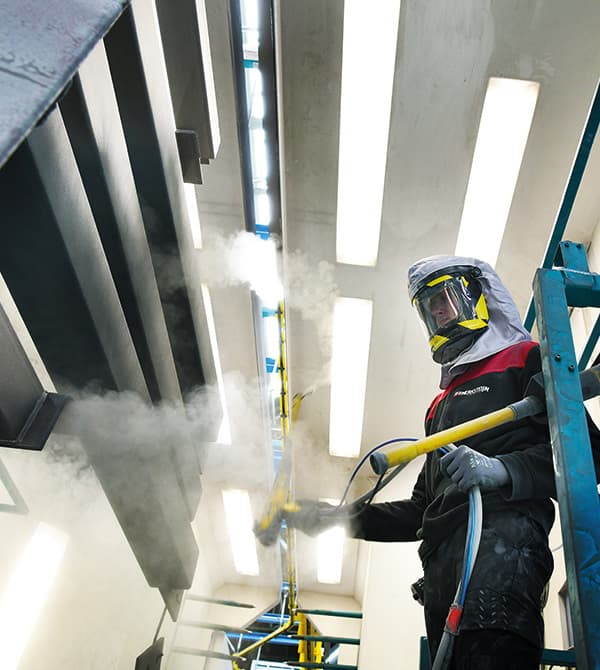 Step 2/5 - How it works
Manual powder coating
In the hand powder cabin, difficult-to-reach corners are coated by hand by our employees and a few powder guns.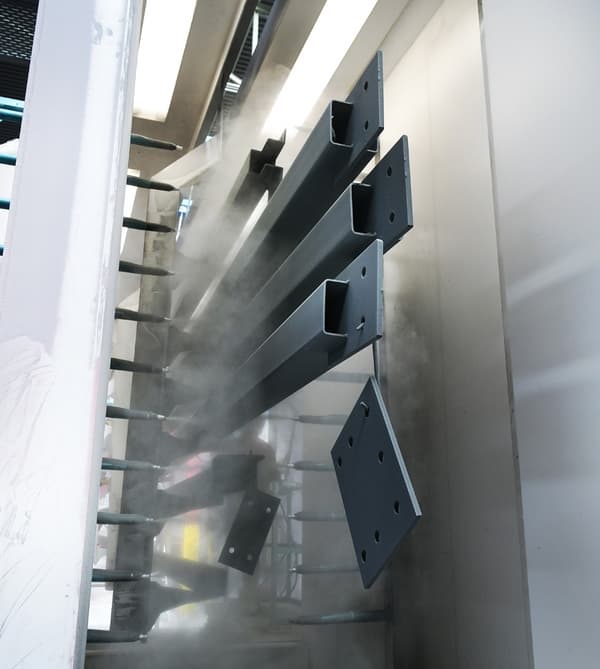 Step 3/5 - How it works
Automatic powder coating
The steel is given a corrosion-resistant powder coating by means of 24 fully automatic powder guns. A powder recovery system prevents powder waste and allows us to reuse surplus powder.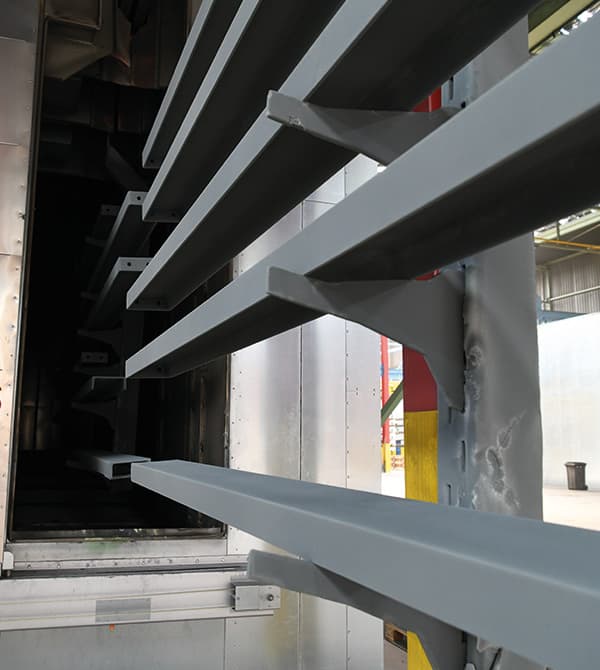 Step 4/5 - How it works
Curing
The structure is cured in a 90-metre long conveyor oven. In the second line, the construction goes into a closed oven.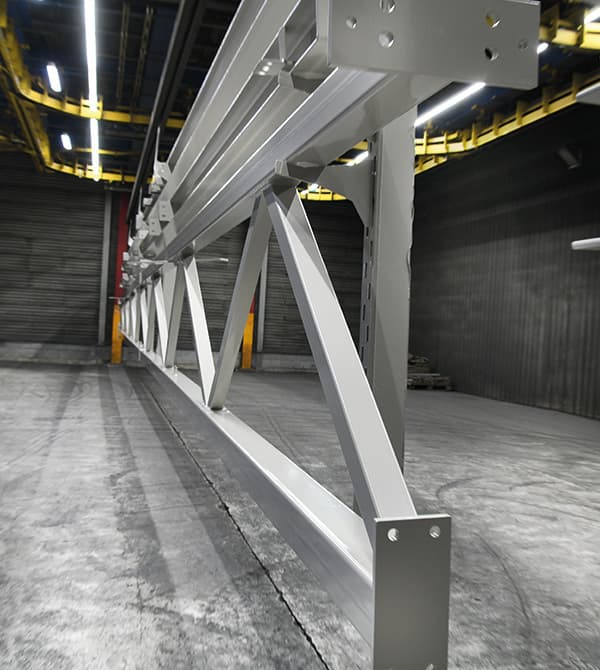 Step 5/5 - How it works
Check
Before the steel leaves the conveyor belt and is loaded onto the trailer, it is thoroughly checked for layer thickness and quality. Any overlaps are corrected by hand.
The advantages of powder coating
Powder coating is a very environmentally friendly process, with an extremely strong result. Without using solvents, with 100% recycled paint powder and an efficient process, it is the greenest choice in steel preservation. With Van Merksteijn Staalcoating, you can rely on:
High gloss level
Easy to clean
Can be touched up with paint
High impact and wear resistance
No assembly damage
Good profile and edge coverage
Smooth or structured coating
Can be packaged and transported immediately after curing and cooling
Guarantee possible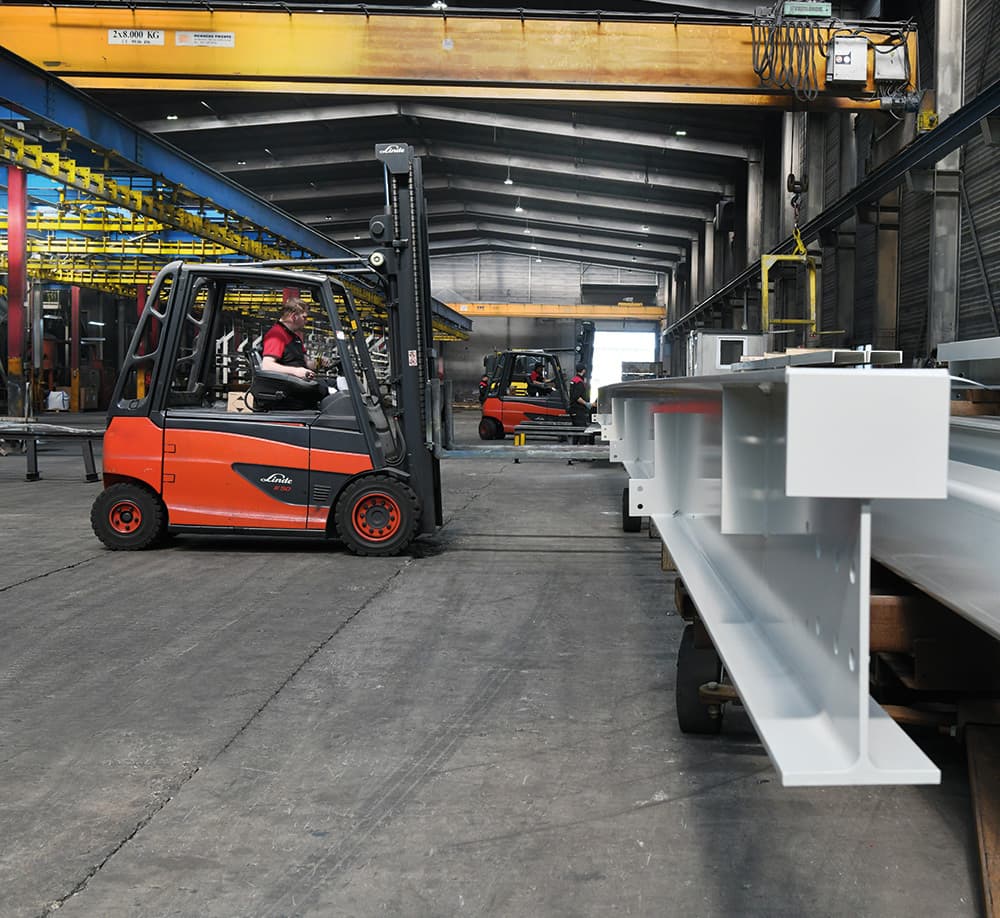 Quality
With its powder coating lines, Van Merksteijn Staalcoating B.V. can offer systems up to C3 (see qualities below).
| Load Class | Example outside | Example inside |
| --- | --- | --- |
| C1 | | Heated buildings with a clean indoor climate. E.g. offices, shops, schools and hotels. |
| C2 | Atmosphere with low pollution level, rural, dry area with little air pollution | Unheated buildings where condensation may occur. E.g. warehouses and sports halls. |
| C3 | Cities and industrial atmospheres with moderate CO2 pollution. Coastal areas with low salt content. | Operating rooms with high humidity and some air pollution. E.g. food processing plants, laundries, beer breweries and dairies. |
| | | |
| | | |
Dimensions
25000mm(length) x 1500mm(width) x 2500mm(height) per construction part.
The centre of gravity must be at the centre of the maximum width dimensions.
8,000 kg Maximum weight per structural component.
Want to know what we can do for you?
Do you have a question about one of our applications, or do you want to know what the best solution is for your specific project? Contact us and our staff will be happy to tell you what the possibilities are.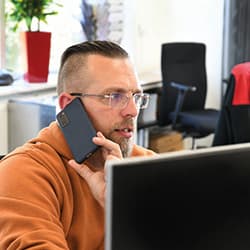 Contact us