Fire protection coating
Fire protection coating
A fire-resistant coating for your steel ensures a safer living or working environment. You achieve a fire resistance of 30, 60 or 90 crucial minutes. Our uniquely formulated coating, without solvents, is cured within 24 hours and ready for use. Irrespective of layer thickness, colour or load. That saves time and money.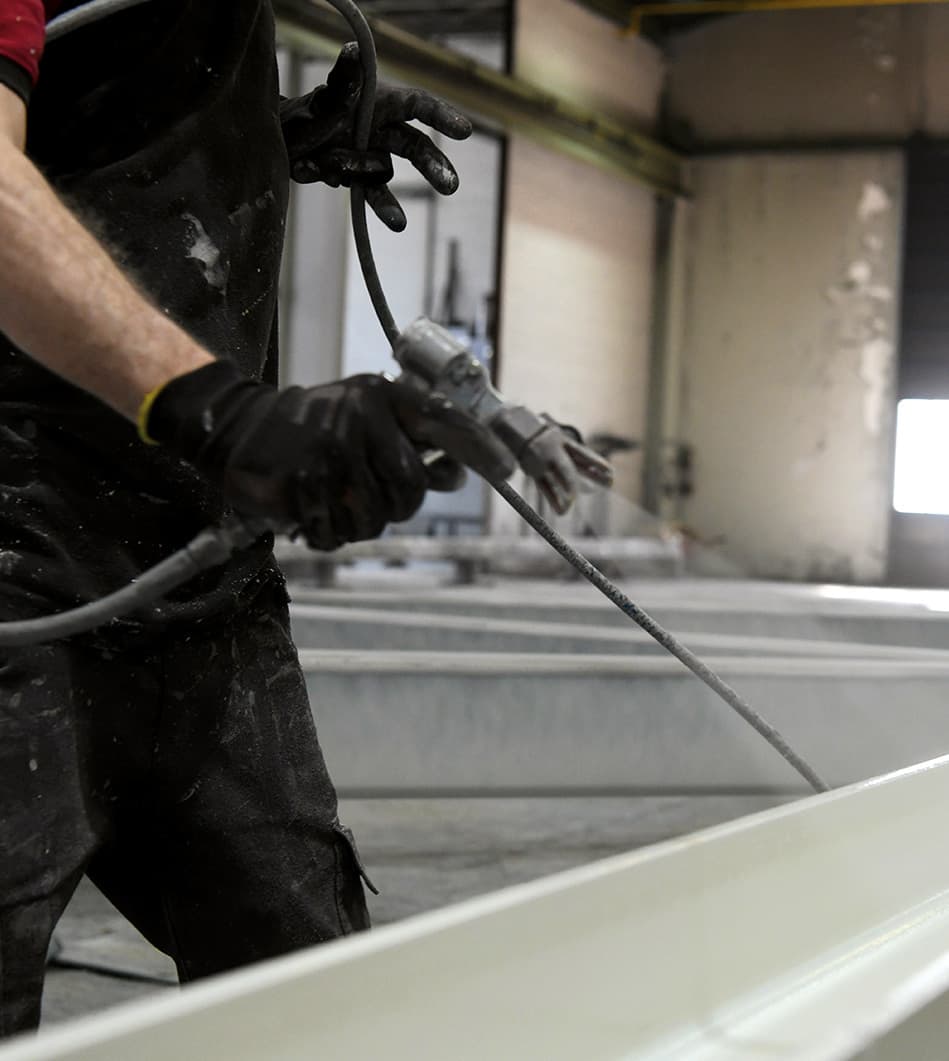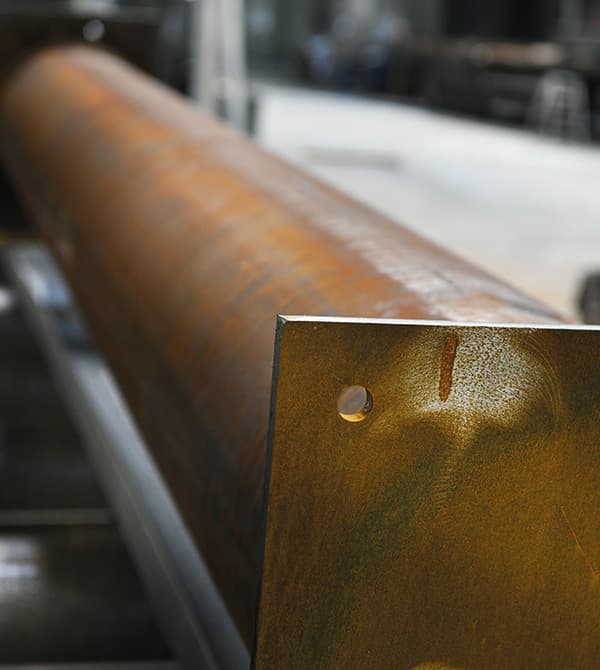 Step 1/5 - How it works
Blasting
The structural steel is blasted. Depending on the dimensions, the intended result and the desired quality, this is done with automated blasting machines or by hand. Rust or other contamination is removed during this process.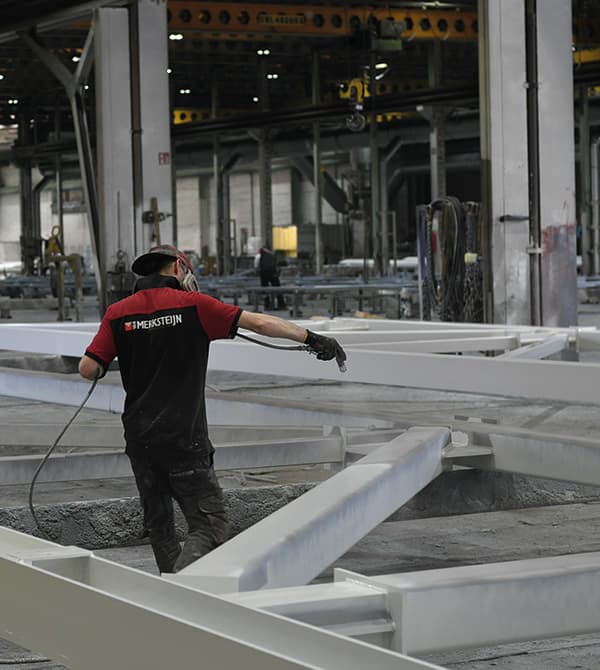 Step 2/5 - How it works
Priming
We apply a good primer to the steel, after which it is dried. This primer ensures optimal adhesion of the fire-resistant coating.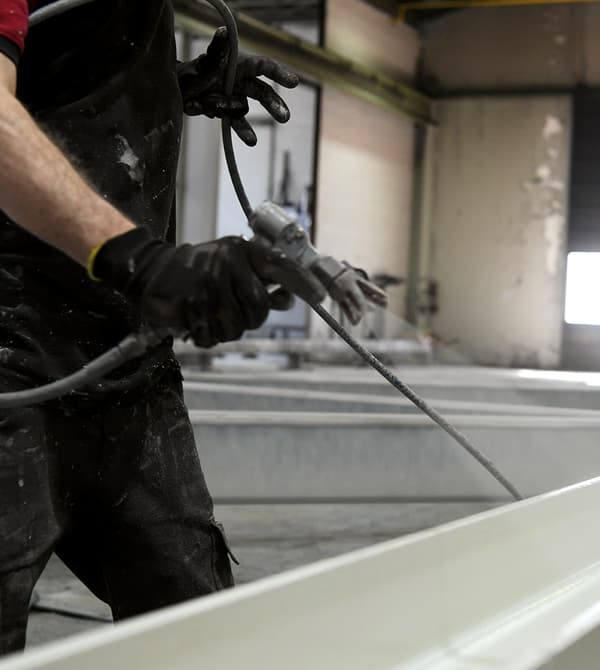 Step 3/5 - How it works
Application of fire resistant coating
After drying, the steel is given one or more layers of fire-resistant coating. This depends on the desired fire resistance, the critical steel temperature and the chosen product. In addition, a top coat can be applied after the application of the fire-resistant coating. This ensures a nice even appearance.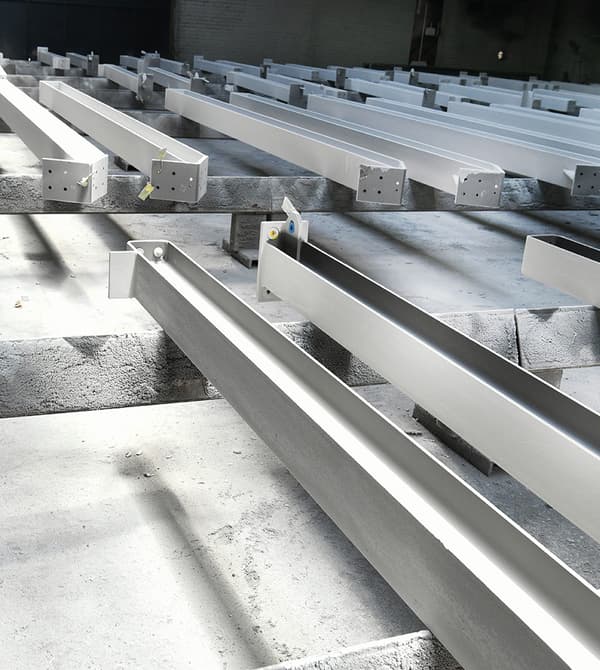 Step 4/5 - How it works
Drying
The steel constructions are stored in our buffer, where they are given time to dry for an optimal result.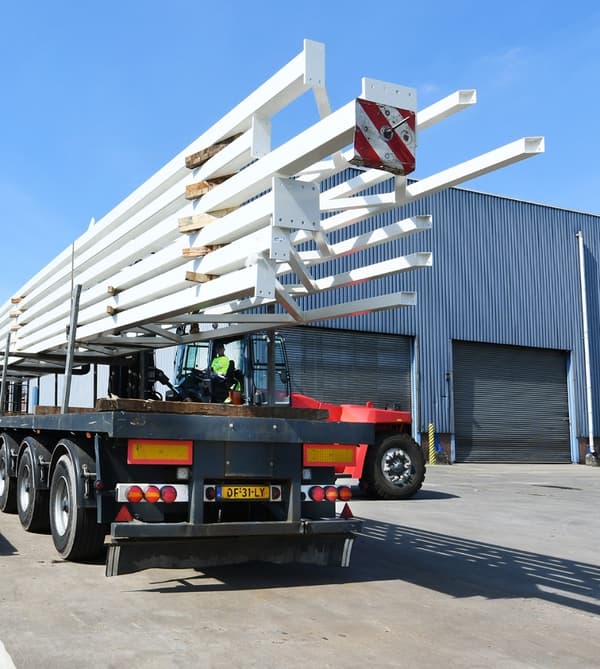 Step 5/5 - How it works
Transport
After drying, the steel constructions are ready for transport. We load them onto your trailer at the loading docks, so that your steel is ready for use as soon as possible.
Advantages of fire-resistant coating
Fire-resistant coating ensures a safe, future-proof construction and compliance with current legislation and regulations. With Van Merksteijn Staalcoating, you can rely on:
High layer thicknesses per job (short delivery time)
Excellent corrosion protection properties according to ISO 12944-5
High impact and wear resistance
Preserves the appearance of steel constructions
Also suitable for fine and complex steel constructions
Statically low stress
No need for primer or final coat (short delivery time)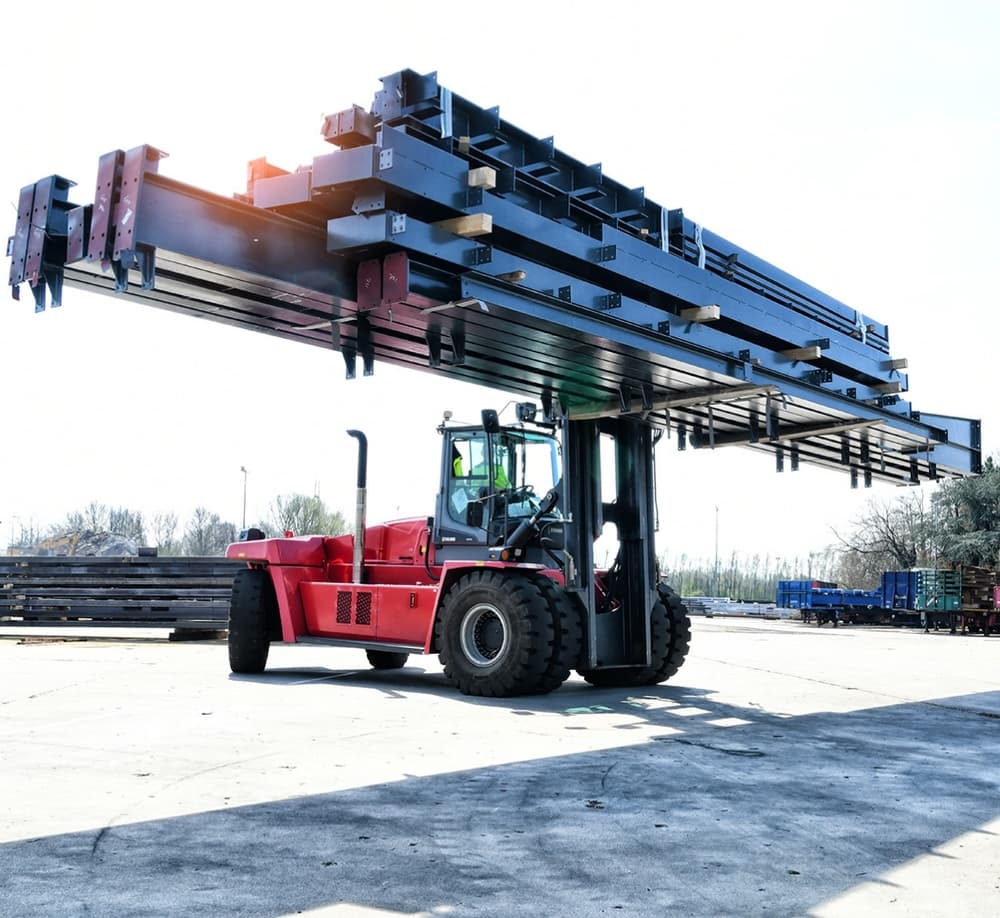 Quality
Van Merksteijn Staalcoating B.V. can offer fire-resistant systems up to C5-I. See the table below for the corresponding qualities.
| Load Class | Example outside | Example inside |
| --- | --- | --- |
| C1 |   | Heated buildings with a clean indoor climate. E.g. offices, shops, schools and hotels. |
| C2 | Atmosphere with low pollution level, rural, dry area with little air pollution | Unheated buildings where condensation may occur. E.g. warehouses and sports halls. |
| C3 | Cities and industrial atmospheres with moderate CO2 pollution. Coastal areas with low salt content. | Operating rooms with high humidity and some air pollution. E.g. food processing plants, laundries, beer breweries and dairies. |
| C4 | Coastal areas with limited salt content. | Chemical plants, swimming pools, ports. |
| C5 | Industrial areas with high humidity and aggressive atmosphere. | Buildings or areas with almost permanent condensation and high pollution. |
| C5-X | Coastal areas and outlying areas with high salt content. | Buildings or areas with almost permanent condensation and high pollution. |
Types of fire resistance coatings
30 minutes fire resistant
Van Merksteijn Staalcoating's epoxy fire-resistant coating is an innovative coating that offers major advantages over traditional coatings.
It is a solvent-free and volume-containing system that is applied in a special way. The paint dries quickly and is extremely hard once dry. This shortens delivery times and reduces the risk of damage. In addition, no primer and final coat is required to achieve a high level of corrosion resistance. This saves time.
This fire-resistant coating without primer and finishing coat is available in grey (approximately RAL 7038) and white (approximately RAL 9010) and has a load class of C3-high. With primer and finishing coat the system has a load class of C5. This also makes it suitable for more aggressive conditions.
60 or 90 minutes fire resistance
For 60 or 90 minutes fire resistance, we produce classic' fire-resistant coatings on a very large scale. Due to the limited layer thicknesses, this system is extremely suitable for 60 and, for heavy constructions, also for 90 minutes fire-resistant coatings.
Our coatings are finished as standard with a top coat in any desired RAL colour. In addition, there are special coatings that are UV-resistant. This is a valuable property in sunny locations.
Per project verschillend, dit gaat lang niet altijd op.
Weten wat we voor u kunnen betekenen?
Heeft u een vraag over één van onze toepassingen, of wilt u weten wat de beste oplossing is voor uw specifieke project? Neem contact op en onze medewerkers vertellen u graag wat de mogelijkheden zijn.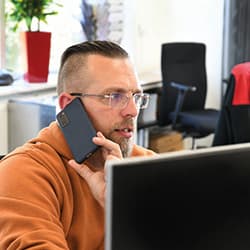 Contact us